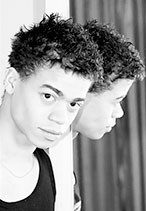 Steven Melendez was born in New York City in 1986 and started his ballet training as part of the LIFT Scholarship Program at Ballet School New York at the age of 7. Later, he studied at the School of American Ballet and attended summer intensive programs with the San Francisco Ballet Academy, Houston Ballet Academy and Kaatsbaan International School.
Steven has performed as a Principal dancer at New York Theatre Ballet where he performed leading roles in choreographies by Fredrick Ashton, George Balanchine, John Butler, Agnes DeMille, Donald Mahler, Antony Tudor and others. He was invited to Buenos Aires as a Guest Soloist to perform with Ballet Concierto, Carmen (Alonso), Don Quixote (Baryshnikov), Symphonic Variations (Ashton) and Borodin (Ariaz) where he toured extensively to Argentina, New Zealand, Thailand, Venezuela, Ecuador, Estonia, Spain and Italy.
He then became a Principal dancer with the Vanemuine Theater, performing in Onegin (Medvedjev), The Nutcracker (Isberg), Giselle (Feco) and Peter Pan (Titova). The leading male role in Par Isberg's Uinuv Kaunitar (Sleeping Beauty) and in Ruslan Stepanov's Kevade. In 2010 Steven worked with choreographer Pontus Lidberg on his new production The Afternoon of Petrushka.
Steven received a Diploma from the 5th Rudolf Nureyev International Ballet Competition in Budapest, Hungary, in 2008. He also received special recognition from head jurist Maya Plisetskya for his second round performance of Onegin. Afterwards, he was invited to perform in the gala entitled Celebrating the Classical Male Dancer and later represented Estonia at the 13th International Baltic Ballet Festival in Riga, Latvia. In 2009 he performed in the Johvi International Ballet Gala for Agnes Oaks' farewell tour. Steven is a protégé of international ballet master David Howard.