C. Eule Dance Workshops and Residencies
After many C. Eule Dance performances, the company conducts interactive workshops with children and adults from the audience who get to learn the choreography and experience performing it on stage.
"See You'll Dance"
A Modern Dance Sampler Program for Elementary Schools
"See You'll Dance" Performance Program consists of a presentation of several short works of C. Eule Dance repertoire which show how dance as an art form can express a range of themes, styles and emotions. Repertoire will include works like "Jazz Tunes of the '20's" a humorous dance conveying the styles and movements of the 1920's and "Fluid Memories" which brings awareness to our environment and water conservation.
"See You'll Dance" Workshops are classes taught by company members where students will learn excerpts of choreography from the performance as well as elements of dance, including shapes, levels, and different ways to move through guided improvisation.
Please contact us for more information at caron@ceuledance.org or at 917-676-2986.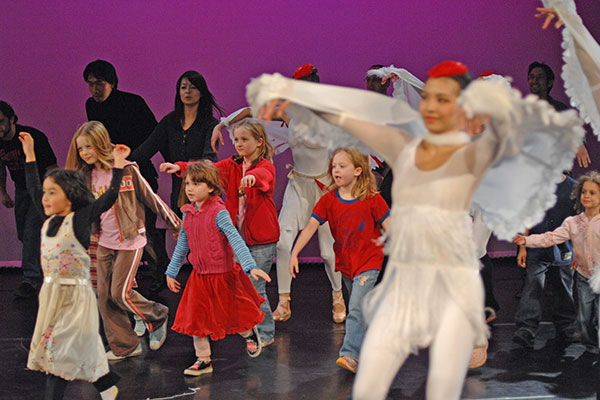 Dance classes offered by Caron Eule
Caron Eule has taught dance to children and adults extensively in New York, New Jersey and Los Angeles for over twenty years. She taught ballet and creative movement at the Westside JCC for the past 6 years and taught Ballroom Dance to 5th graders for SMC and for Dancing Classrooms in the Los Angeles area public schools. In the East Coast, Caron taught ballet and modern dance at Ballet Hispanico and at the JCC on the Palisades. She also taught Ballroom Dance to 4th, 5th and 8th graders through Dancing Classrooms, NYC. She has taught Contemporary Master Classes at University of Buffalo, University of Fredonia, Golden West College, Beverly Hills High School, and for Collective Movement in Santa Monica.
Creative Movement
Pre-Ballet Class for 3-6 year olds
Wednesdays: 4:30PM-5:15PM
April 6th-June 22nd
In the Park La Brea Courtyard
Beginning Ballet for 7-10 year olds
TBA
For location and availability, or if interested in starting a new class at a different time, please contact Caron at 917-676-2986 or at caron@ceuledance.org