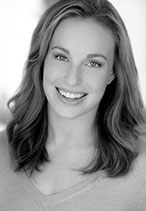 Eliza S. Tollett, a native of Massachusetts, recently relocated to Los Angeles from New York City. She is thrilled to join C. Eule Dance this season. In addition to C. Eule Dance, Eliza dances with DagDag Dance and is joining Anaheim Ballet for The Nutcracker.
While in NYC, Eliza performed professionally with both classical and contemporary companies including Eglevsky Ballet, Thomas/Ortiz Dance, New York Theatre Ballet, Brooklyn Ballet, American Ballet Theatre, Armitage Gone! Dance, Cherylyn Lavagnino Dance, and Buggé Ballet. Prior to moving to New York, Eliza was a dancer with Richmond Ballet and North Carolina Dance Theatre.
In addition to performing, Eliza is the founder and owner of The Ballet Spot, an adult ballet fitness studio, which began in NYC and is now also in LA! Eliza holds a BFA in Dance from NYU Tisch School of the Arts. She is an ABT® National Training Curriculum Certified Teacher in Pre-Primary through Level 5.