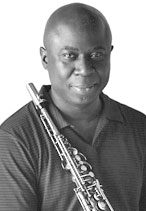 Soprano saxophonist and composer Sam Newsome has become of the most original voices in jazz and contemporary music. His unique style combines straight-ahead and experimental jazz, world music, and extended saxophone techniques. He has released numerous CDs featuring his original compositions written for a diversity of groups from multi-cultural, world jazz ensembles to saxophone quartets. His most recordings feature innovative music for solo saxophone, including his 2010 release, Blue Solilqouy, which received a 5-star rating in Downbeat Magazine.
Newsome has received numerous commissions and grants and awards for his composition skills. Since 2004 he has received grants from Meet the Composer, NYSCA, CEC Artslink, the Jerome Foundation and the Brooklyn Arts Council. His most recent work, Sound Dance: Music for Solo Saxophone and Three Dancers (2010) was made possible by a generous grant from NYSCA Individual Artist, Composers Commission, in which he combines the vocabularies of modern jazz and classical with modern dance. Newsome's CD, Monk Abstractions: Solo Works for Soprano Saxophone (2007) was voted "Best Tribute Album" by All About Jazz-New York Magazine.
Newsome graduated from Berklee College of Music in Boston, Mass in 1988 with a degree in jazz composition and arranging. He studied with a wide-range of composers and improvisers, including Herb Pomeroy, Donald Brown, Fred Lipsius, Greg Hopkins, Bill Pierce, George Garzone, and Andy McGhee. In the 1990s, Newsome moved to New York where he made a name for himself as a jazz saxophonist and composer performing with such luminaries as Donald Byrd, Terence Blanchard, and Lionel Hampton.
Newsome's own musical projects include: The Sam Newsome Quartet, Collective Identity Saxophone Quartet, Sam Newsome & Global Unity, Sam Newsome's Groove Project, The Romanian-American Jazz Suite, and Sam Newsome (solo). Newsome's discography includes 10 CDs and leader and over 40 as a sideperson. Many of Newsome's musical allies and collaborators include some of the most creative voices on today's music scene: Fred Ho, Rudresh Mahanthappa, Leon Parker, Jean-Michel Pilc, Lucian Ban, Mark Turner, Orrin Evans, David Berkman, JD Allen, Alex Harding, and the Pan Asian Chamber Jazz Ensemble.