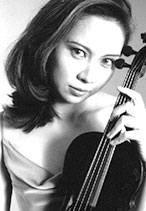 All About Jazz called her "the queen of chamber jazz", violinist, composer and erhu player Meg Okura leads the Pan Asian Chamber Jazz Ensemble, a group of virtuosi, defining world-chamber jazz. Hailed by New York Times as "vibrant" and "sophisticated," the ensemble "… mixes a classically trained mastery of strings, piano and drums with quick-witted compositional twist performed with high energy" (Down Beat Magazine).
Born and raised in Tokyo, Japan, Meg started her musical training at the Toho Gakuen School of Music at age five. Her artistic ability later led to her position as concertmaster and soloist of Asian Youth Orchestra, and eventually her U.S. debut with the late Alexander Schneider's New York String Orchestra at the Kennedy Center in her teenage years. She furthered her education at the Julliard School, earning both bachelors and masters degree in the study of classical violin. Soon, persuaded by her Juilliard professors' belief in her exceptional talent, Meg began to pursue a transition from the classical violin to jazz.
Talented and determined, Meg dedicated herself to mastering jazz and soon, with her switch of genres and evolution into what she explains as "a more complete musician", Meg began to advance her career as a jazz violinist. Touring with artists such as 13-time Grammy winner Michael Brecker and Steve Swallow, and recording with jazz artists Dianne Reeves, Lee Konitz, and Sam Newsome, Meg has performed at prominent venues such as Carnegie Hall, the Hollywood Bowl, the Lincoln Center, and London's Barbican Centre. In addition, she has collaborated and performed with Oscar nominee actor and Columbia recording artist Terrence Howard, as well as been featured in three Cirque du Soleil shows, exhibiting her remarkable talent as an improviser on the violin.
In 2005, Meg embarked on a new journey, founding and leading the Pan Asian Chamber Jazz Ensemble, challenging herself as both a violinist and composer. Since the ensemble's debut at New York's Stone in February of 2006, the ensemble performed over fifty public performances at such venues as the Knitting Factory, the NYC WinterJazz Festival, and the Kaplan Penthouse at Lincoln Center, and has also played to sold-out concerts in Japan in 2008.