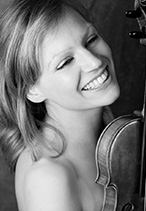 Born in Germany, violinist Annette Homann began playing violin at the age of six. She has toured extensively with several orchestras, performing throughout Europe and China.
In 2005 Annette relocated to New York to complete her Master's degree with Laurie Smukler at the Manhattan School of Music. During her time at MSM she participated in several jazz classes and performed in various jazz combos in addition to her classical studies.
Upon graduation, Annette joined the critically acclaimed theatrical violin show Barrage – "A high-octane fiddle-fest that features an international, multi-talented cast performing an eclectic mix of music, song and dance". Ms. Homann toured with the group for 3 years, playing over 200 shows each year throughout Europe, USA, Canada, Central America and China. In addition to performing shows, the Barrage group conducted educational workshops in schools and made frequent TV and radio appearances.
Currently Annette enjoys an active freelance career in New York. Her eclectic talents allow her to navigate effortlessly through many musical genres including Bluegrass, Irish fiddling and Jazz. She performs with a wide range of ensembles such as the New England Symphonic Ensemble, Iconiq Quartet, Bianchi Musica, Ensemble Moto Perpetuo and Joe Gallant's Illuminati Orchestra. She has performed at various venues including Carnegie Hall, Avery Fischer Hall, Alice Tully Hall, Symphony Space, New World Stages & Brooklyn Bowl. She has just been the staged violinist/singer/actress for the productions of "What I'm failing to learn" and "Julian Po" in NYC.
Annette has recently begun composing music. She is experimenting with combining unique violin accompaniments with her own voice as well as theatrical aspects. She is excited to have been able to compose for and work with Caron Eule for "Through the Looking Glass"!
Annette is also a dedicated educator and maintains a private teaching studio in New York.