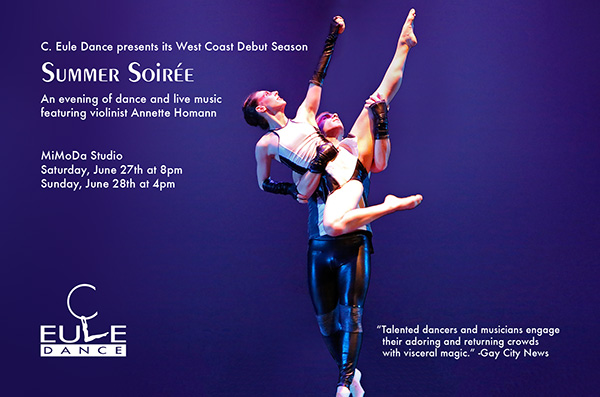 Saturday, June 27th at 8PM
* Sunday, June 28th at 4PM



5772 West Pico Blvd
Los Angeles, CA 90019
(Entrance Thru Paper or Plastik Cafe)
C. Eule Dance, a contemporary dance company of 14 years in New York City, relocated to LA last year and is premiering their first concert at Mimoda (there is a link at the bottom.) The evening consists of two new works created in Los Angeles and several company repertory pieces. Some of the pieces will be performed to live violin, cello, and piano music with original score by Annette Homann and Amir Khosrowpour. In typical C. Eule Dance fashion, the musicians will become part of the dance, blurring the line between musician and dancer.
* The Sunday matinee will be followed by an interactive dance
workshop for children and families.
Tickets: $20 adults, $10 children under 12
For Saturday tickets Click Here
For Sunday tickets Click Here